CELEBRATION OF LIFE – MEIKO NAKANO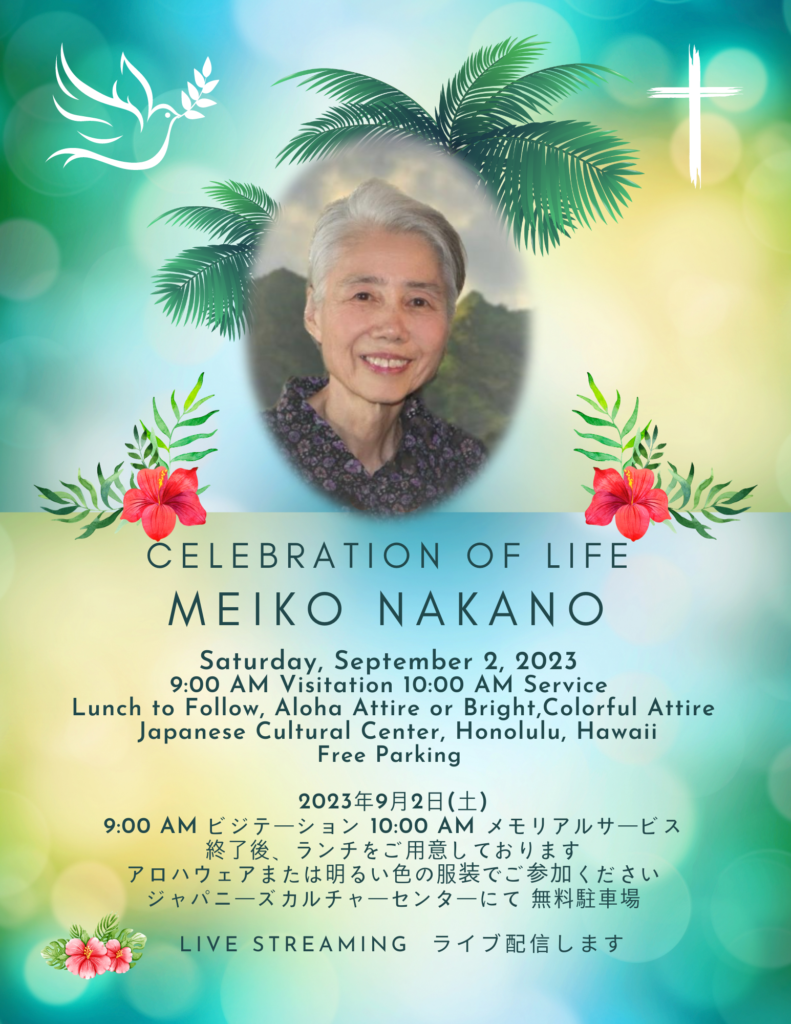 Would you like to share, sing or dance (3-5 minutes) during an open mic time at Meiko's Memorial?
私たちは、長くホノルル・キリスト教会で牧会にあたってまいりましたが、1996年1月の聖地旅行で、オリーブ山に立った時、主から、巡回伝道者として働くようにとの召命をいただきました。愛する同胞ならびに日本語を理解する人々の救いのため日本、北米、南米、さらに地の果てまで、遣わされるべく、マウント・オリブ・ミニストリーズを開始しました。
私たちの所属しております、北米ホーリネス教団からも、私たちを教団の巡回伝道者として任命していただき、アメリカの日系伝道団体である JEMS (Japanese Evangelical Missionary Society) からも後援をいただき、1996年から現在までに、日本、アメリカ、カナダ、ブラジル、香港、中国その他との国々でご奉仕させていただきました。年間四百回の集会でご用をさせていただいています。
私たちの願いは、講師を招く余裕のない小さな教会、グループを援助させていただくことです。謝礼についてはどうぞご心配なく、宿泊と食事さえ提供していただければ十分です。どんな小さな集会でも、精一杯、喜んでご奉仕させていただきます。
We had long been at Honolulu Christian Church, but in our Holy Land Trip in January of 1996, when we stood atop Mount Olive, the Lord gave us a call to work as a traveling missionaries. For the salvation of those who understand their beloved brethren and fellow Japanese, the Mount Olive Ministry was founded and set to be launched in North America, South America, and even to the ends of the Earth, Japan. 
We are Christian evangelists, appointed by the North American Holiness Conference, a Japanese missionary organization based in the United States and a member of the JEMS (Japanese Evangelical Missionary Society). From 1996 to the present, we have been serving Japan, the United States, Canada, Brazil, Hong Kong S.A.R., China, as well as other countries. 
I am allowed to host rallies 400 times a year. Our goal is to help small churches and groups that cannot afford to invite speakers. Please do not worry about payment, if you can even provide accommodation and meals, that is sufficient. We will be happy to serve you at any small event.